Intervention strategies
Strategies for plugging the gap in student learning in order to maintain continual progress.
Intervention strategies – additional targeted strategies (such as remedial instruction, differentiated curriculum and scaffolding) that are implemented when learning gaps put a student at educational risk.
Every teacher is responsible for monitoring and assessing the progress of their students so that action can be taken if any issues are identified. If a student misses an instruction or does not understand part of a task, learning might come to a halt unless the teacher intervenes. These types of interactions are the 'bread and butter' of the modern teacher, and most issues are easily and quickly addressed. Intervention strategies can range from a few minutes of one-on-one support to long-term, scheduled remedial instruction.
Most interventions are teacher-led, short-term or one-off actions that address the issue quite easily and quickly.
In some cases, the standard support mechanisms that teachers rely on fail to adequately address the growing gaps in an individual's development and progress. When these gaps are identified, something must be done to arrest the widening and expanding gap between where the teacher wants the student to be and where they actually are. Intervention strategies are implemented when the teacher determines that a concerted effort is required to address a potentially serious learning-related issue. Often these issues are systematic, they have been present for some time, they are related to core foundational skills, they are highly specific, and they are unlikely to be resolved without targeted additional support.
Intervention strategies can range from a few minutes of one-on-one support to long-term, scheduled remedial instruction.
In most cases, students fall behind for reasons that are not overly concerning and a basic intervention is all that is needed. This may be in the form of a few one-on-one sessions with the teacher to 'catch-up' to the rest of the class. Students fall behind for a myriad of reasons such as short-term absenteeism, trauma, issues at home, grief from the loss of a loved one, illness, injury, or if they simply 'don't get' a topic. Sometimes a new peer group or even a new teacher can result in a temporary drop in performance.
Most interventions are teacher-led, short-term or one-off actions that address the issue quite easily and quickly. However, some interventions are large-scale, government-directed, systematic programs complete with additional resources such as specialist teachers.i These types of programs are a key ally of governments who have pledged to improve students' literacy rates. Such programs are usually tiered systems that begin with minor teacher interventions and progress to higher levels of more concerted action for more serious problems. A typical intervention program may follow a procedure like the one listed below.
Level 1: The most common form of intervention by far; the teacher uses a range of standard strategies, makes minor adjustments (differentiation) and monitors student performance closely. This level of intervention is not part of any formal planning documentation and adjustments are made on the fly. The student follows the same activities and uses the same resources as his or her peers. The teacher tries to address the identified issue without any formal intervention process although the student, teacher and teacher aide are keenly aware of the problem. If the issue is addressed, no further action is taken other than ongoing monitoring, as happens with all students. This type of intervention happens regularly (daily) and is nothing to be concerned about. Parents are rarely contacted at this point unless the teacher notices a pattern.
Level 2: The teacher uses differentiated instruction (also referred to as an 'accommodation') to make changes to resources and strategies specifically targeted to the needs of the individual student. Unlike level 1 which happens on the fly in most cases, the teacher decides to devote time and energy to developing resources, planning, monitoring, assessing, providing feedback and working one-on-one with the student. The teacher might ask parents to provide additional learning opportunities at home such as reading or writing activities each night. A teacher's aide or another specialist may be assigned to work with the student on a regular basis. Alternatively, the classroom teacher may dedicate additional time to work with the student either in class or in separate, scheduled sessions. The student may undergo tests for potential disorders such as processing or developmental disorders, as well as potential physical issues such as hearing and sight impairment. Parents are involved throughout the process. Many students will occasionally fall into level 2 at some stage of their education. The key is to identify specifically what the issue is so that is can be addressed with targeted strategies. For example, no student has issues with 'reading' per se, however they may have issues with phonemic awareness and specifically one or more sounds. They may have issues with spelling, processing (maybe a mild undiagnosed disorder), visualisation, whole words, sight words, pronunciation, an underdeveloped vocabulary and so forth. Just saying that a student has problems reading fails to identify and address the actual problem.
Level 3: Students at this level have gaps in their development that are extremely concerning and which (without remedial instruction) have the potential to inflict irreparable damage to their long-term education. This is the highest level of intervention and involves specialist staff such as literacy teachers. A targeted remedial program is developed and implemented for 3-12 months. Students may also be placed on an individual education plan which outlines a series of agreed strategies with the goal to tackle the issue as often as possible (for example, a constant emphasis on reading even in science, maths and PE for maximum exposure and opportunities to practise).
Hint: a Response to Intervention (or RTI) is an approach that categorises students in one of 3 tiers and is shown as a pyramid. Most students fit into the bottom tier and no intervention is required other than good teaching practice. The middle tier is where targeted intervention occurs. This usually means some form of intervention is provided (such as additional tutoring) in the hope that the student will move back to the bottom tier. The top tier is for students who have serious issues in their learning and require more long-term efforts.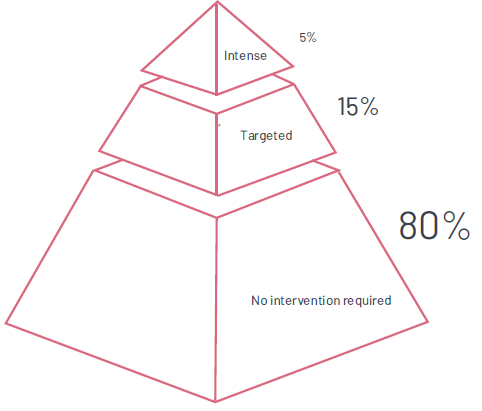 Foot notes:
Response to Intervention (or RTI) Programs are school-wide and often state-wide programs implemented at the school level. They are often coupled with funding based on factors such as the socio-economic status of the community and school performance in national testing regimes.